As we set our feet firmly into the new year, we interviewed youth leaders from our Learning to Lead™ program to highlight the great leadership work being done by youth in our community. We talked to Monika Jandu, Co-Chair, Minerva's Youth Advisory Council. How does this young leader see the future of leadership? This and more below!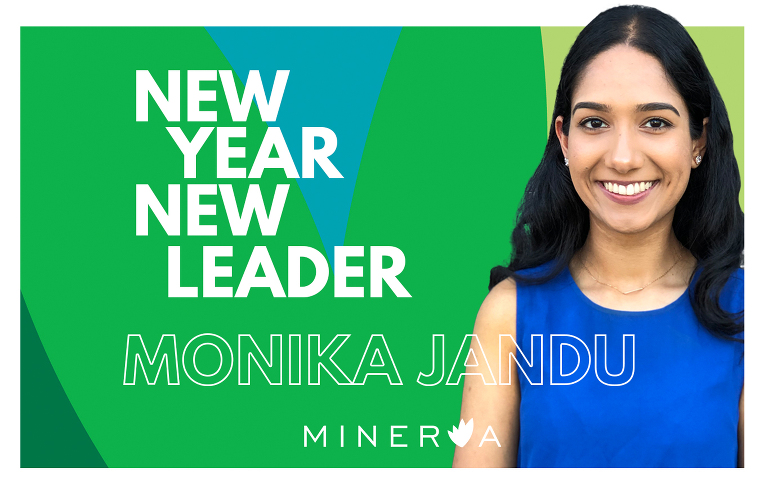 Reflecting on the past year:
Were there any leadership experiences that stood out, or inspired you, during the past year? What were they, and why were they meaningful for you?
An experience that has stood out to me this past year is my leadership with Young Minds Exploring Science (YMES), a youth education organization. YMES was created by my friend and I during the beginning of the pandemic, with the overarching goal of providing youth with the opportunity to virtually engage in an academically and socially engaging setting free of any barriers. We were able to secure grants to fund our program, develop the curriculum for our workshops and partner with the Delta School District, our former school district, to recruit students for our 8-week virtual program.
The first iteration of our program in early 2021 went better than we could have ever imagined; we formed strong bonds with our students, engaged them in topics that we are passionate about and helped our students become acquainted with others in their community, be it youth or university mentors. The positive student feedback and our passion for our cause inspired us to run a second iteration of our program, which just ended in December 2021! Overall, my experience with YMES has been incredibly fulfilling, as I have been able to seamlessly combine my passion for science, education and youth in efforts to ultimately give back to a community that is very close to my heart. The collaborative work that went into bringing this idea to life will always serve as a reminder to me that with hard work, creativity and most importantly passion- anything can be accomplished.
In the present
What does being a leader mean to you?
There is a saying that goes, "to inspire people, don't show them your superpowers, show them theirs"– this is exactly what I believe leadership is all about. To me, leadership has always been about empowering others and ultimately helping others see and reach their fullest potential. This vision of leadership stems from the fact that growing up, I was fortunate to have many individuals in my life, whether that be family, educators or community leaders, who inspired me and helped me become the best version of myself. Witnessing their leadership in action has helped me create my definition of leadership and provided me with many core values, all of which I strive to uphold in my daily life.
How do you practice leadership on a daily basis?
Incorporating my core values in my everyday life is one way in which I practice leadership on a daily basis. Some of the values that I hold close to my heart include growth, learning and kindness, all of which I strive to incorporate in my everyday life. For me, growth means striving to become the best version of myself, whether that be adjusting my habits or learning new skills. A big part of growth is recognizing when progress has been made, therefore I try to take a moment once in a while to reflect on my personal progress.
As someone who believes that knowledge is power, I have always been passionate about learning. This has led me to incorporate endless learning in my life, whether that be taking interesting elective courses as an undergraduate student at UBC, engaging in volunteer and work opportunities where I can apply my learning in a hands-on environment, or seeking wisdom from a mentor who is knowledgeable in a particular area. This value also goes the other way around; I aim to educate others and this shows up in many ways in my life, whether that be through coaching preschool sports, facilitating science workshops for elementary students through YMES or mentoring high school and university students.
We all know that a little kindness and positivity goes a long way, hence why I aim to spread both of these things through all of my daily interactions and encounters. Showing up as my authentic self is important to me, and I believe that taking on a values-based approach to leadership and incorporating it in my daily life allows me to do just this and more.
Do you have any advice for other girls who want to develop their own leadership, but don't know how or where to start?
My biggest piece of advice would be to take the time to identify your strengths and values and seek out opportunities that allow you to expand on those. It is important to recognize that leadership comes in all shapes and forms; by no means do you need to be the most extroverted person to be a leader. Whether it is your endless passion for a particular cause, organizational skills or anything else in-between, the unique strengths and skills that you bring to the table will serve you far in your leadership journey.
Once you have identified your strengths and values, seek out or create opportunities to expand on these; this could look like reaching out and chatting with a mentor who inspires you or joining a club in your school/ local community that aligns with your values.
Mentorship is something that has helped me throughout my leadership journey, and I am always looking to pay it forward and mentor others. I am always happy to be a mentor and encourage anyone who would like to chat to reach out to me at any time! I also want to recognize that taking that first step may be intimidating- however, it can be helpful to remind yourself of the overall purpose and the impact that you hope to achieve by doing this.
Looking forward to this new year: 
How do you think leadership should look in the future?
As we enter 2022, I would love for additional emphasis to be placed on well-being and compassion in the context of leadership. The COVID-19 pandemic has brought on challenges for many and ultimately has impacted each and every one of us to some extent. Recognizing that many are doing their best to cope during these trying times has highlighted the need to take care of yourself as well as those around you. With regard to leadership, this could look like reaching out to your colleagues, friends and teammates and providing support to them when possible. This also includes prioritizing your well-being and practicing self-compassion.
As a leader, it can be hard to say 'no' – this is something that I have noticed in myself and am working on. However, I hope that we can make a shift and normalize taking breaks to prevent burnout and mitigate feelings of stress, in efforts to ensure that mental and physical health always remain top priority.
Is there a word, or a quote, that's guiding you this year?
My guiding quote this year is, "I'll see it when I believe it." This mantra truly reinforces the idea that you can achieve anything, as long as you have the courage to believe in yourself. Too often, we get overwhelmed by the 'what-ifs', however, it is important to put your best efforts forward and enjoy the highs and lows that come along with the journey of chasing your goals. As we enter 2022, I will add this quote to my wall of wisdom that I have in my designated study area, in efforts to remind myself to take on my endeavours with an optimistic, can-do outlook!
Minerva's role
What motivated you to get involved in the Youth Leadership Council (YAC)?
My positive experience with Minerva BC inspired me to get involved with the Youth Advisory Council. My first encounter with Minerva was way back in Grade 11, when I was fortunate to be a participant in the Learning to Lead™ (L2L) program and spent a weekend at UBC's Vancouver campus, building on my leadership skills and meeting so many influential women. This experience had a lasting impact on my leadership journey and inspired me to continue staying connected with Minerva.
Inspired by Minerva's mission to empower women, I decided to sit on the Youth Advisory Council (YAC) as an L2L alumna, where I was able to foster connections with leaders as well as shape the future offerings of youth programs including L2L for many more youth to come. During 2021, I had the pleasure of taking on the role of Co-Chair, alongside Anureet, a good friend of mine who I had met way back at L2L 2017. Together, we had the opportunity of working with such a talented group of YAC members and contributing to many of Minerva's youth programs whilst also launching many of our own team initiatives, one being Minerva BC's 'Mindful Moments' podcast! The mentorship, support and creativity offered by YAC is truly unparalleled and I am looking forward to all that 2022 has in store for our team!
What would you say to other girls who are considering  joining Learning to Lead™, or another one of Minerva's youth programs?
I would highly encourage youth who are interested in mentorship, leadership and more, to consider participating in any of Minerva's youth programs! Speaking from my experience with Learning to Lead™, this program is great for helping youth kickstart their leadership journey in an uplifting, collaborative and safe environment. On top of this, there are endless opportunities to foster long-lasting connections with other youth and mentor figures. The unique thing about Minerva is that you can continue being involved with the organization beyond the duration of your program, one way of course being through the Youth Advisory Council!
To continue to promote youth leadership and provide growth opportunities, Minerva has launched the Making Space for Youth Leadership program – a 10-month intergenerational learning program that brings together young women, transgender and non-binary youth, with business leaders from across BC.
Youth and established leaders will engage in reciprocal mentorship, have fun, and co-create a "learning exchange" in their community. Learn more about the program or apply here. Submission Deadline: January 31, 2022.